Lack of members halts Jersey States meeting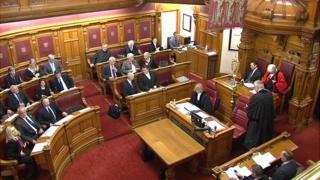 A lack of politicians led to a Jersey States meeting being put on hold.
Debate had been due to resume after the break for lunch at 14:15 BST, but less than 26 of the 51 members were in the chamber so debate could not continue.
It came following two warnings from the presiding officer that there needed to be enough members present for debates to be held and legislation passed.
The meeting resumed 15 minutes after its scheduled start once other members had arrived.
Greffier Michael de la Haye said as he adjourned the meeting: "The public find it outrageous members are not present to debate important topics."
He was echoing the words of Bailiff Sir Michael Birt, the presiding officer, in his earlier warnings.
'Cracks showing'
Some members of the assembly suggested workload both in and out of the government sittings played their part.
Treasury Minister Senator Philip Ozouf tweeted: "3 full days States Sittings last week, plus 2 full days already this week, cracks beginning to show".
He also gave an idea of his daily schedule: "From ministerial perspective: meetings started 7:15am, 2 meetings over lunch, 2 meetings after 5:30-10pm."
Senator Paul Routier agreed: "The additional States sitting this week has required all the scheduled meetings to be squeezed in early morning, breaks and evenings. Lunch?"
Once the meeting had resumed a motion about freedom of information (FOI) and data protection was approved by a vote of 38-0.
The changes included a cost limit for FOI requests, a cap on the amount of time and cost incurred in answering the request, which will form part of the island's FOI law when it comes into force on 1 January 2015.