Jersey's Durrell park climbing frame built for gorillas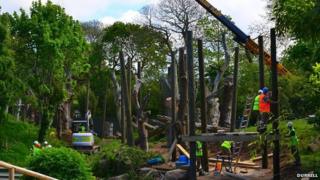 A new facility for gorillas at the Durrell wildlife park has been built by the Jersey Field Squadron.
The exercise space, designed by lead keeper Jonathan Stark, had to be built within the confines of the existing gorilla enclosure.
The budget for the project was £28,000 but a Durrell spokesman said they came in under budget thanks to the squadron.
Mr Stark said the climbing frame would help keep the gorillas healthy.
He said: "It not only allows more available space for movement, but it provides overhead cover for the gorillas, as well as better viewing opportunities for visitors.
"None of this would have been possible without the kind help of the Jersey Field Squadron, who not only proved their building expertise as members of the Royal Engineers, but did so without causing any undue stress to Badongo and his family."
The Jersey Field Squadron is a Royal Engineer General Support Squadron. It comes under Royal Monmouthshire Royal Engineers.
It was formed as Jersey's contribution to the UK's defence forces and, as well as helping with Jersey projects, deploys trained soldiers on a regular basis on operations in support of the British Army.