St Helier politics 'putting finance centre tenants off'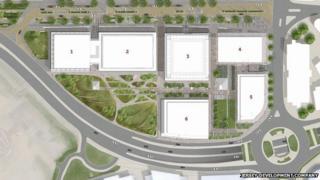 Political wrangling over the planned finance centre on the Esplanade in St Helier could be putting off potential tenants, says the head of the Jersey Development Company.
Lee Henry was talking on BBC Radio Jersey's Politics Hour on Sunday.
Prospective tenant RBC has pulled out of the government development in favour of a private-sector alternative.
Some politicians have suggested the scheme should be reviewed.
Mr Henry said this was having a negative effect and prospective tenants needed to have full confidence from the government.
'Very limited'
"There is very limited grade-A office space available in the island with less than 1% of the total stock available," he said.
"This isn't a healthy position for the island to be in given that our primary industry is office-based."
Deputy John Le Fondre said he believed private developers were capable of providing office space.
"I don't think we as a government should be getting in competition with the private sector in that area," said Deputy Le Fondre.
Former chief planning officer Deputy John Young, said he was concerned about the nature of the development.
"Ever since the planning for the waterfront really commenced in 2000, it's been accepted that we need commercial development," he said.
"My concern is that we don't need only offices and only offices done in a piecemeal way which could prejudice other uses for the site."
A podcast of BBC Radio Jersey's Politics Hour is available as a podcast here.