St Ouen's beach surfers warned to check tides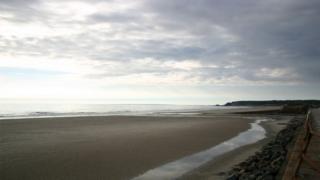 Surfers need to check tide tables for St Ouen's beach before taking to the waves, say lifeguards in Jersey.
The warning follows an incident on Friday evening when a surfer was slammed against the seawall at high tide and had to be rescued.
Lifeguards were stationed on St Ouen's beach at the weekend for the first patrols of the year.
Supervisor Will Glenn said the beach was "a notorious danger spot" at high tide.
"The beach completely disappears," he said.
"The waves were dumping the surfer against the sea wall as he tried in vain to get out of the water.
"He was also caught up in a lot of kelp which made the situation worse."
RNLI beach lifeguards advised surfers and swimmers to leave the water before the tide came in.