Jersey considers independent hospital regulating body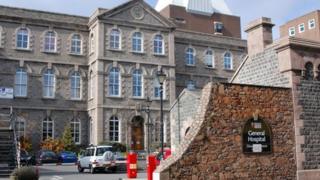 Plans to introduce an independent regulating body to oversee hospital services in Jersey are being considered by the Health Department.
Ministers said they felt external oversight would benefit care quality.
It would also help the island keep pace with developments in health provision elsewhere, they added.
Assistant Minister John Refault said: "We must remain ever-vigilant that there are moving trends around us and we must do our best to reflect those."
The island's general hospital, which currently sees about 250,000 patients a year and employs about 1,600 staff, is currently self-regulated.
Mr Refault said: "It is up to us to put in place another form of regulation to ensure that someone checks that we are looking at ourselves appropriately."
One option being considered was collaborating with the Isle of Man to create a regulatory commission for both islands, Minister Anne Pryke said.
She said teaming up with a place that had a similar-sized population would mean they could work with another jurisdiction that had "similar challenges".
It would also be cost-effective, she added.