Jersey Island Games opening ceremony venue announced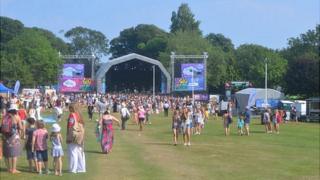 Howard Davis Park in St Helier has been confirmed as the site for the opening and closing ceremonies for the 2015 Island Games in Jersey.
More than 3,000 competitors will take part in the games, which run from 27 June to 3 July.
Phil Austin, chairman of the organising committee, said residents would still be able to use the park during the games.
Up to 7,000 people are expected to attend the opening ceremony.
Steve Bailey, games director, said: "An awful lot of athletes will be staying in hotels around Howard Davis Park so they will be able to make their way on foot which will reduce congestion."
Reassuring residents
More than 800 nearby residents have been contacted by the games committee.
"Of course we're very aware that events can bring discomfort to people this close but ours is a sporting event, not a music event," Mr Bailey continued.
"There will be some entertainment but it will be very low key."
The games will share some logistics and equipment with Jersey's Big Gig, a music festival which will be held the following weekend.