Jersey people protest over future of listed buildings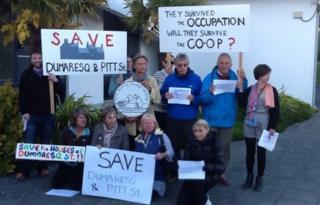 About a dozen people attended a demonstration in support of heritage groups plans to restore listed buildings in St Helier.
The National Trust and Save Jersey's Heritage have offered to buy Co-operative owned buildings for £1 and will pay more than £2m to restore them.
The group held placards saying "Save the houses of Dumaresq and Pitt Street" outside the site of the company's AGM.
Co-op says it will make a decision at its directors meeting in June.
Karen Le Roy Harris, granddaughter of the former owner of one of the buildings in Dumaresq Street, Francis Foot, led the protest.
She said when her uncle sold the properties to the Channel Islands Co-operative society, it had to restore them as part of the deal.
Ms Le Roy Harris said: "One of the things on the agenda at the meeting was what to do with the buildings. We are protesting to let them know we want them saved.
"The conversation for selling them to them was that they were going to restore them, they have now gone back on what they agreed to do themselves. Ideally we just want to see them restored."
Plans by the Co-op to replace the homes and shops with a four-storey unit for shop space, offices and parking, were rejected last year by the planning department.