Commonwealth Games baton piped through St Helier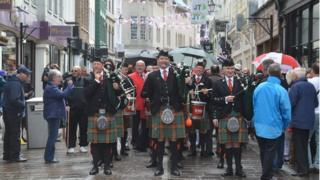 The Commonwealth Games baton was piped around St Helier on Monday as it spent its first full day in the British Isles.
The Jersey Pipers led the baton on a procession through streets still bedecked with flags from Saturday's Liberation Day celebrations.
The baton arrived in Jersey on Sunday after a tour of Commonwealth countries.
It was due to conclude its round-island trip at Fort Regent on Monday evening.
The baton was carried from Government House to Springfield Stadium and along King's Street, as part of its two day visit to the island.
On Tuesday the baton will travel by boat to Guernsey and will tour schools there the following day.
The baton will be taken to the other main Channel Islands of Alderney, Sark and Herm on Thursday.
It then travels to the Isle of Man and on to Northern Ireland, Wales and England before ending its journey with a 40-day tour of Scotland.
The baton contains a message from the monarch, which will be revealed at the opening ceremony of the 2014 Games in Glasgow on 23 July.