States favours Sure over own company for staff phones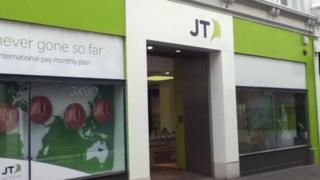 Jersey's government does not use state-owned telecoms provider JT Global to provide hundreds of BlackBerry mobile phones to senior staff.
BlackBerry handsets are instead provided by Sure, a company ultimately owned by the government of Bahrain.
JT does provide cheaper non-internet mobiles to the States, although BBC News has learned all States mobile contracts are currently out to tender.
One critic said the States was "cutting its nose off to spite its face".
Deputy Geoff Southern chaired a scrutiny panel into the aborted privatisation of JT.
'Driven by cost-cutting'
He said: "Presumably this is driven by cost-cutting yet we own JT and presumably get tax on the profits and get a dividend from them, so one wonders what the treasury is doing using another supplier, one that is foreign owned."
The States, Jersey's biggest employer, spends about £114,000 a year with Sure on 330 BlackBerry handsets for senior staff who need mobile email and internet access.
It also spends some £68,000 a year with JT on 1,200 mobile accounts intended for voice and text use by mobile workers.
Taxpayers are represented on the board of JT by Treasury Minister Philip Ozouf, who describes himself as an activist shareholder.
He said the government could not be seen as protectionist.
Graham Hughes, chief executive of Sure Jersey, said he was "proud" to supply BlackBerry services to the States.
He said, however, that the contract was small compared to telecoms contracts across many States departments currently with JT which have never been offered to tender.
Deputy Southern said: "I would hope JT is efficient enough to supply at the lowest price as well as be considered because it's owned by the States."
JT did not return a BBC News request for comment.