Jersey coin hoard extraction done in public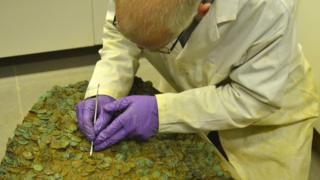 Work uncovering the secrets of the world's largest hoard of Celtic coins will be the centre piece of a new exhibition at the Jersey Museum.
Jersey Heritage Trust conservator Neil Mahrer and his team will work inside a large glass room - on view to the public.
The hoard was discovered by two metal detector enthusiasts and is thought to contain some 70,000 coins.
The exhibit will also feature other artefacts from the same era.
Mr Mahrer said it would be painstaking work but it was an incredible opportunity to find out about our past.
His work may also be shown through a live feed to the museum's audio visual theatre.
He said: "It will be removing coins from the surface of the Earth right through to the bottom of the hoard. People will be able to see every step of the work.
"We knew it would be a long job and so we thought we would do it in public. We are rebuilding the lab we have at the archive in the middle of the exhibition at the museum.
"Eventually there will be people working on the hoard 9-5 six days per week behind there. You will be able to see people removing the coins, treating them in acid to remove corrosion and using hand tools."
Val Nelson, Jersey Heritage Registrar, said although it was on display, it would be a working lab.
"The coin hoard is going to be the major part of this exhibition, but we have borrowed other artefacts from Guernsey, Normandy and Brittany to put what was happening in this region into context," she said.
"The fact we have that amount of coins that were buried here in one go, and it wasn't the only hoard found here, it starts to ask all these questions. What we hope to do with this exhibition is to answer those questions and maybe ask some more questions."
The Treasure: Uncovering Celts and Romans exhibition will allow visitors to watch as the team remove gold and silver objects, as well as coins from the hoard, thought to be worth about £10m.
Mr Mahrer said: "What we are very excited about is that we simply don't know what is inside the hoard, just by removing the soil without removing any coins we've found two gold torcs, a gold bracelet and something silver.
"If we can see there is a new large gold object coming out we will do constant updates on Facebook and Twitter to let people know when we are likely to remove it. Then perhaps we can say we intend to remove it on a certain day so people can arrange to be there when it happens."
He said he expected the whole process to take up to three years to complete.
The exhibition opens to the public on 2 June.