Tom Daley to bring Queen's Baton to Channel Islands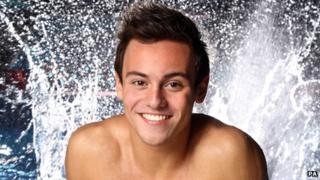 Olympic and Commonwealth medallist Tom Daley will bring the Queen's Baton to the Channel Islands, officials have announced.
The Glasgow 2014 ambassador said he was honoured to be carrying the baton, which arrives in Jersey on Sunday.
It will be the first Home Nation stop on the baton's 288-day journey through the Commonwealth.
The diver from Plymouth will be joined by 23-year-old Team Jersey medal hopeful, shot-putter Zane Duquemin.
The pair will carry the Queen's Baton into St Aubin's Bay, where hundreds of young athletes are set to welcome them in a public ceremony, before the two-day relay starts off on the island the following day.
Glasgow 2014 Ambassador, Tom Daley, said: "I was so honoured to be asked to carry the Queen's Baton as it arrives back on British soil.
"I've followed the baton's journey around the world since it began last October, so it's very exciting to be in Jersey as it begins the Home Nations leg."
Alan Cross, the president of the Commonwealth Games Association of Jersey, said: "We couldn't ask for a better build-up for Team Jersey as we draw close to the Games."
The baton will travel to Guernsey next Tuesday, arriving by boat before it is transported to Beau Sejour Leisure centre for a private reception with the Lieutenant Governor.
The baton will then be taken a a number of primary schools in the island, with each school nominating two baton bearers who will take it to its next venue.
The relay then travels to the Isle of Man, Northern Ireland, Wales and England - culminating in a 40-day tour of Scotland.