Jersey Electricity calls for electric car grant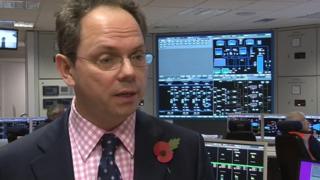 Jersey's government should do more to encourage electric car use, according to the head of the island's power company.
Chris Ambler, CEO of Jersey Electricity Company (JEC), said the States should make money available to help people buy electric vehicles,
He said his company was responsible for making sure power points were available wherever people needed them.
Treasury Minister, Senator Philip Ozouf, said he was open to ideas.
He said: "Treasury gives substantial support to the Environment Department for ongoing energy efficiently initiatives. I'm happy to hear arguments about whether subsidised electric cars would work or whether there was a better use of funds."
Transport minister Deputy Kevin Lewis said there are about 90 electric vehicles in Jersey excluding work vehicles, such as forklift trucks.
He said: "We have 100,00 vehicles in the island. Of those there are 69 electric cars, six electric vans, 16 electric motorcycles and 200 hybrid vehicles."
£300,000 test scheme
Mr Ambler said as the sole electricity provider the company was in a position to install power points wherever people needed them, as well as providing tariffs to make electric vehicles financially viable.
"This fits well with the States energy strategy and would help them reach the target of reducing greenhouse gas emissions by 80% by 2050," he said.
He suggested a trial for a limited number of grants over the next couple of years to test public appetite.
In 2013 Jersey Electricity and Transport and Technical Services installed 10 charging points in the island.
Mr Ambler said he did not expect them to be heavily used.