Deputies line up Jersey's only political party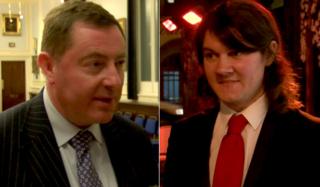 Islanders will be able to vote for a formal political party at the October general election, according to the island's two newest deputies.
At a public meeting in St Helier Town Hall on Thursday, Deputies Sam Mezec and Nick Le Cornu said the party would be called Reform Jersey.
They urged members of Jersey's minority Portuguese population to stand as candidates.
The party will be "of the left" and will appeal to progressives, they said.
Jersey currently has no political parties.
Of the island's 100,000 population, up to 10,000 are estimated to be of Portuguese origin.
About 50 people attended the meeting which was called to muster opposition to "Proposition 33".
Centralised power
If passed at a debate on Tuesday, it will grant the chief minister powers to hire and fire other ministers and enforce unanimous voting by the Council of Ministers.
Deputy Mezec said: "If we have collective responsibility and more centralised power, then it has to be on the basis of a party political system."
Ray Banks, from St Helier, attended the meeting and voiced doubts about Reform Jersey's political stance.
"In this society you need to appeal to the middle ground," he said.
"I wouldn't be inclined to join a Reform Jersey party unless it reformed its policy base. Socialism is not going to work here, if it ever worked anywhere.
"I'm not sure a political party system would solve our problems."
Deputy Le Cornu said Reform Jersey would appeal to working people and hedge fund managers alike.
"It's essential to do what the establishment won't do and has refused to do because they are frightened of change," he said.