Women's Institute joins social media poppy campaign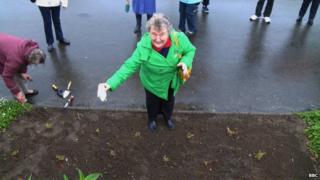 Poppies have been planted as part of a social media campaign to mark the First World War in Jersey.
Members of the First Tower and Millbrook Women's Institute sowed seeds and plants which should bloom by the August centenary.
The idea is part of a UK-wide movement to commemorate the outbreak of hostilities.
Joan Cadoret, of the First Tower and Millbrook WI, said the location in St Andrew's Park was perfect.
"It's going to be a very sunny patch and passing traffic will see it from the road," she said.
"It's 100 years since the Great war and over the next four years we hope to commemorate that. It was such a horrendous time."
Deputy Richard Rondel has launched a social media campaign, supported by the Jersey Farmers' Union, to encourage islanders to plant poppies.
"It's vitally important for all age groups," said Deputy Rondel.
"A lot of people have said they want to get involved so I thought I'd set up a Facebook site. There is something similar in the UK. It's spread very quickly indeed."