Jersey beach 'should have sand restored'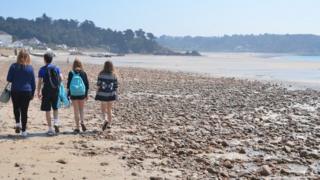 Sand should be returned to St Brelade's Bay after storms uncovered rocks, say beach business owners.
Jono Stevenson, of Jono's Watersports, said one of the most popular beach destinations for visitors now looks unsightly and is dangerous.
Environment Minister Deputy Rob Duhamel said if people wanted the sand back they should put pressure on the minister responsible for tourism.
Senator Alan Maclean was not available to comment.
Heavy winds and high tides in February caused hundreds of thousands of pounds worth of damage to sea defences and properties around the island.
Part of the damage saw a large part of the sand from St Brelade's Bay removed, exposing rocks and metal.
Patricia Wolniak, who runs the Crabshack restaurant along the beach front, said she was worried it would have an impact on business.
She said: "About January or February the tides took most of the sand away. We're worried about our customers not coming back to us because they haven't got a place to sit or lie down and local people are disappointed as well.
"The sand has come back ever so slightly over the last two tides but it's not major. The States need to do something about it."
Mr Stevenson said a lot of scrap metal had been uncovered by the tides, with sharp jagged edges.
"We want the sandscape put back on the beach. It is the jewel of Jersey. As beaches go, it is beautiful and usually ends up in the top ten of beaches in the UK," he said.
Deputy Duhamel, said he had not had any applications to move sand back on to the beach.
He said: "Nobody likes it but at the end of the day if these people want to get together and put pressure on the tourism minister then we will see what can be done."