Weather struggles persist for Jersey fishermen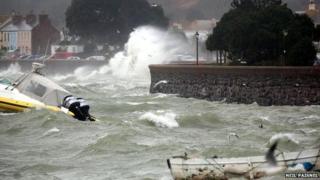 Jersey fishermen who were unable to fish for months due to bad weather are being dealt a second blow by improving conditions.
Weeks of calmer weather have allowed the entire European fleet to fish heavily, causing prices to crash.
Don Thompson, president of Jersey Fishermen's Association, described the scenario as unprecedented.
He welcomed financial support announced on Wednesday by the States government.
"Fisherman have been clocking up the days but suffering very poor prices so we've yet to see the boys getting on their feet," said Mr Thompson, who is also a lobster fisherman.
'Irreplaceable'
Jersey's fishing fleet consists of around 70 boats and 150 fishermen, although some have left the industry because of the storms.
"That's precisely what we're trying to avoid," said Mr Thompson.
"Fishermen are irreplaceable. You can't just pluck someone out of the job centre and make them fishermen overnight."
Assistant Economic Development Minister Carolyn Labey said fishermen had been crippled and the industry was "extremely important" in both economic and cultural terms.
"I am determined that government should show how valued the industry is by providing short-term relief to those affected," she said.