No Jersey legal action over Channel Island Aircraft Registry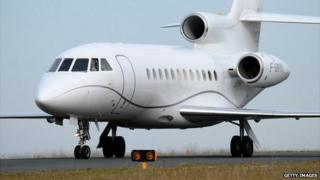 No legal action will be taken over the name of Guernsey's aircraft registry, Jersey's economic development minister has said.
It follows the failure of a move to create a joint registry, which led to Guernsey launching its own in December.
Senator Alan Maclean previously raised concerns about the name, the Channel Island Aircraft Registry, and its impact on the Jersey registry.
He said: "We've made our point... we didn't feel it was appropriate."
Jersey will launch its own aircraft registry in the summer after making "good progress", Senator Maclean said.
"Jersey has always been of the view that we've got a very strong proposition and we're still strongly confident that a Jersey aircraft registry will attract quite a significant amount of interest," he added.
Benefit the economy
Proposed legislation to allow the registry to be set up will be submitted to the States next week.
Both islands hope the registry will benefit the wider economy through the development of support industries and the use of the islands' established businesses, including fiduciary, legal and financial services.
Officially called the Channel Islands Aircraft Registry, Guernsey's registry is known as 2-REG because its aircraft tail-signs begin with a "2".
Guernsey has signed nine aircraft, including two Airbus passenger jets, and hopes to have registered 60 aircraft over the next year.
The Isle of Man's register, which was launched in 2007, had more than 400 planes listed.