Jersey Post urges islanders to plant poppy stamps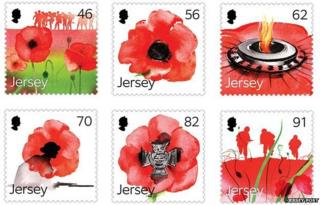 Poppy seeds will be included in stamps to help raise money for veterans as part of World War One centenary commemorations.
Jersey Post is releasing the six stamps and a miniature sheet featuring paintings of poppies next month.
Two of the designs will include seeds sealed behind a thin, transparent, bio-degradable plastic cover.
Half of the £1.50 cost for the two stamps will be donated to the Jersey branch of the Royal British Legion.
A spokesman for Jersey Post said: "The stamps can be used for posting letters as usual but they can also be planted, gradually decomposing as the seeds start to grow, producing the striking red flowers which are so strongly associated with remembrance."
Gary Carroll, business development director, said: "As poppies only grow during the spring and summer months, we are encouraging islanders to grow their poppy stamps during May and June so the flowers are in bloom in time for the 4 August centenary events."
The company is encouraging people to "buy a pack to plant, buy a pack to post" to encourage friends and family outside of the island to join in by planting the seed stamps.