Jersey holiday camp appeal to go ahead rules court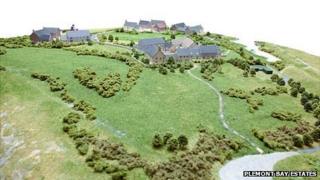 An appeal against a planning decision to allow 28 homes to be built on the site of a former holiday camp can go ahead, Jersey's Royal Court has ruled.
Deputy Robert Duhamel, Planning Minister, approved the plans at Plemont, in St Ouen, in August.
St Ouen parish appealed the decision, but the developer and minister lodged their own appeal suggesting it had not been lodged soon enough.
The court upheld an earlier ruling that the parish's appeal could proceed.
The redevelopment of the former Pontins holiday camp, on the island's north coast, has divided public opinion since it was first discussed.
The plan, by the site's owner Plemont Bay Estates, includes 80% of the site being returned to nature.
Opponents of the plans want to see all of the site returned to nature.
The minister and developers' case claimed the parish's appeal had not been lodged within the 14-day limit.
The court ruled it was valid and effective and could go ahead.
Michael Paddock, St Ouen Constable, said: "I'm very pleased the parish has been vindicated... we always felt we delivered it on time... now we can get on with the main appeal.
"It would be nice to get on with this and get it resolved to put everyone's minds at rest."
The developers had hoped to start clearing the site last year but this work has been put on hold until the appeal process has been completed.