Jersey's Victoria Marine Lake 'to be open by August'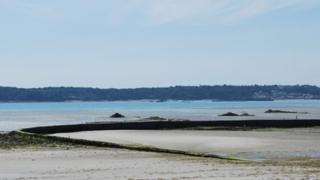 A lake originally built to mark the Diamond Jubilee of Queen Victoria will be re-opened by August after a refurbishment, developers say.
The Victoria Marine lake is 190m (623ft) long and 150m (492ft) wide. Developers said it had been left to decay over the past 20 years.
Pierre Horsfall from the Marine Lake Group said it would cost about £300,000 to restore the lake.
The lake is run by the group behind Les Ormes Sport and Activity Resort.
Mr Horsfall said they would also restore a nearby World War Two German bunker for the storage of kayaks and life vests.
He said: "The pool is like a wall, shaped like a horseshoe. It hasn't been maintained for 15 or 20 years and so there are cracks between the stones.
"At some time in the past there was concrete added to the wall. The concrete is going to be taken away and replaced by masonry. It will be back to the way it was when it was first commissioned for Queen Victoria."
The pool, originally called the Victoria Marine Lake, was opened in 1897 and is Jersey's oldest such pool.
It is also thought to have been the largest of its kind in the British Isles when it was built.
It covers an area of 13 vergees [quarters of the French acre, or 23,400 sq m] and can hold more than 6m gallons (27m litres) of water.
Mike Graham, general manager of the Bosdet Foundation which will manage the site, said the restoration project would bring the pool back to life.
"It is going to make a huge different to West Park. It is the opening for St Helier and it will make an improvement to the beach.
"It won't just be the lake itself, but it will bring the whole area back to life and make it a fun place to be."