Howard Davis Park plans for Island Games 2015 in Jersey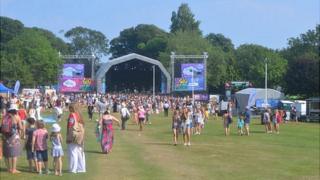 An entrance to Jersey's Howard Davis Park could be widened to make it easier for it to host big events, including next year's Island Games.
The park has hosted events including Rock in the Park and the Big Gig and is one of the sites being considered for the opening and closing ceremonies.
Phil Austin, Jersey 2015 organising committee chairman, said it was one of the options being considered.
"We'd expect 6,000-7,000 people to be at the opening ceremony," he said.
"I would hope we would have made a final decision by the AGM in June. We have to get certain permissions, so we're exploring possibilities."
The Transport and Technical Services Department has applied for planning permission to carry out the work at the entrance near St Luke's Church.
Traditionally, the Island Games opening ceremony sees competitors parade with their island flag followed by entertainment based on the host island's culture.
Mr Austin said: "The opening ceremony, we've determined, will be two hours and no longer.
"That sounds a long time but we've got to get 3,000 sports people into the arena, wherever that is, so that's going to take an hour."