Jersey Post sales drop leads to stamp price rise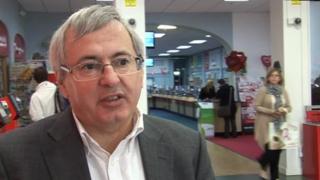 The cost of sending a letter in Jersey is to go up by 1p to reflect a "significant" drop in business.
Government-owned firm Jersey Post said prices had not risen for two years and in that time sales had fallen by nearly 50%, a loss of business of about £30m.
Chief executive Kevin Keen said the increase also reflected the increasing number of homes in the island.
The 1p price increase on sending letters will come into force from 23 April.
Mr Keen blamed the drop in sales on the loss of Low Value Consignment Relief (LVCR).
It allowed low value goods under £15, such as CDs and DVDs, to be sold VAT-free to the UK from the Channel Islands.
It was introduced by the UK Treasury in 1983 to help speed up the transit of low-value goods, which may have otherwise been delayed by customs.
'Never good news'
HM Revenue and Customs decided to end LVCR on 1 April 2012 after large mail order companies had moved to the islands to make use of the tax relief, which still applies to all European Union countries.
Mr Keen said: "We understand that price increases are never good news for our customers, but hope they will appreciate the reasons for the changes and note that they are the first stamp price increases from us for two years.
"These new prices should have a minimal impact on most islanders because the average household now spends just £1 per week on postal services."
He said they would cut the price of a small packet to the UK or other islands to help "micro-businesses" using services such as eBay and Amazon to sell from the island.
Jersey Post delivers letters and parcels to more than 43,500 addresses in Jersey, five days a week.