Tasers approved for Jersey Police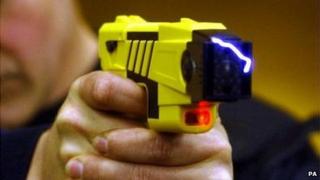 Jersey's firearms-trained officers are to be equipped with Tasers following approval by the island's government.
Ian Le Marquand, Jersey's Minister for Home Affairs, said they were an alternative to using firearms and "these are not theoretical situations".
Deputy Nick Le Cornu accused the government of "militarising" the police by introducing the measure.
But the proposition passed with 40 votes in favour, seven against and one abstention.
Senator Le Marquand said: "Cast your mind back to the tragic events of 2010 when a man murdered six members of his own family with a knife.
"Not having Tasers also makes us vulnerable to civil claims if a person is shot or injured by firearms because a Taser was not available."
Members heard that Guernsey Police officers already have access to Tasers.
Deputy Jeremy Macon, who chaired a scrutiny panel on the subject, said Guernsey's limited deployment of Tasers suggested they served as a deterrent.
He also questioned the wisdom of spending £32,200 on equipment which would rarely be used.
Deputy Le Cornu said: "Across Europe, states are policing austerity with increasingly militarised police forces.
"What we're seeing today is further creep of the militarised state. Authoritarians will vote for this proposition. I will not."