Trislander aircraft finishes on Guernsey Jersey route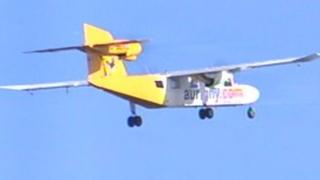 The aircraft used for commercial flights between Guernsey and Jersey for more than 40 years have been withdrawn from the service.
The Trislander aeroplane - first used by airline Aurigny in 1971 - has been replaced by planes operated by Blue Islands.
It is part of a merger agreement by the two airlines to save on costs.
Former Trislander pilots said it marked the end of an era and they were sad to see the plane go.
However, Trislanders will continue to fly between Alderney, France and Guernsey for the time being.
Although only Blue Island's planes will be used on the Guernsey to Jersey route, both carriers will take bookings for the seats, which will be sold on an equal basis.