Jersey health minister says half of A&E patients non-urgent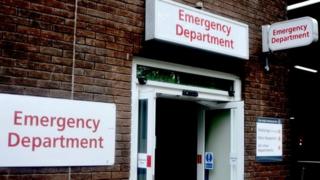 Nearly 50% of people treated at Jersey's accident and emergency department could have seen a GP instead, the health minister has said.
Deputy Anne Pryke said 18,000 of the 37,500 patients who visited the department last year could have had their complaints handled by a doctor.
Dr Nigel Minihane, who leads a group representing GPs, said the cost of seeing a GP was part of the problem.
It currently costs about £36 for an appointment at a doctor's surgery.
Dr Minihane said: "We work in the system in which we work - secondary care is free but primary care is not.
"We pay for it out of our own pockets and if you are relatively wealthy that is OK, if you are in need - it is a problem."
Broken system
He said: "I'm very concerned about accessibility. I want my patients to be well, I want them to be looked after.
"I was on duty last night and two people told me they couldn't afford to come and see me and I said to both of them if you need to come in I won't charge you.
"But why should I be doing that? That's the system that's broken."
Deputy Pryke said there were no plans to turn people away from accident and emergency.
She said: "As a department we have to be geared up to take what comes through those doors, we can't turn anyone away."
Assistant Health Minister John Refault said: "The costs of all primary care services, not just GPs, but also in regard to chemists, dentists and opticians as well are a concern for many islanders."
He said the department was working with all primary care providers to find a better way to deliver them and ensure everyone can get the care they need.