St Helier voters elect reform candidates in by-election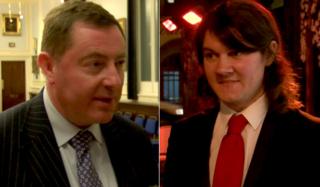 The people of St Helier have elected two candidates standing on a reform platform in the by-elections.
Nick Le Cornu in St Helier district one and Sam Mezec in district two both stood under the Reform Jersey campaign group's banner.
Nine candidates stood for the seats made vacant by Trevor and Shona Pitman, who lost their seats in January.
Turnout in both elections was low, with 15.3% in St Helier one and 14% in St Helier two.
Results came in within 30 minutes of polls closing.
Mr Le Cornu got 248 of 761 votes cast. Mr Mezec received 277 of 528 votes.
Mr Mezec said: "I feel incredible, not just to win but by such a big margin. I am grateful to the people in St Helier two who came to vote and put their support in me.
"St Helier number two is already significantly under-represented in the States. My campaign was about standing up for St Helier and bringing politics into the 21st Century."
Mr Le Cornu said it had taken him six years to get elected.
Political analyst Adrian Lee said: "Both candidates were explicit about where they stood. It is often said the electorate are fed up with talk of reform, but these candidates put packages together that linked constitutional reform with social reform.
"Looking at it from the outside, both put together a rather successful package using a mixture of traditional campaigning and digital media."