Charities warn of Jersey food bank rise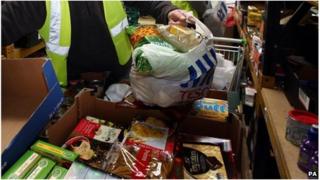 Charities have warned of a rise in people using food banks and relying on food parcels in Jersey.
The Grace Trust said almost 80 households each month relied on food provided by the charity.
It added that since 2008 the number of people needing a regular bag of food has doubled.
Lt Melanie Scoulding, from the Salvation Army, said: "We see people who haven't eaten for a couple of days".
'Face a mile long'
The charity also gives emergency supplies to people in need and believes more people are relying on food banks.
Gerry Padden, from the Grace Trust, said: "We're quite a wealthy island and we have people who are struggling to make ends meet.
"Many people come to us with a face a mile long and we try and send them back out in a better frame of mind."
The charity helps people who have been referred by parish halls, citizens advice bureaux, social services and churches.