Jersey airport officials told to 'look again' at demolition plans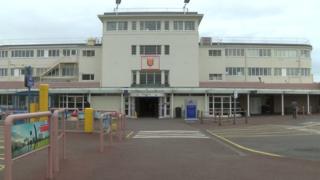 Plans to demolish Jersey airport's arrivals building will have to be rethought after the idea was rejected by the island's planning minister.
Deputy Robert Duhamel wants the Ports of Jersey to draw up detailed plans for alternatives.
Ports of Jersey says the listed 1937 building should be knocked down because its location is a risk to flight safety.
Deputy Duhamel asked officials to examine moving the runway.
The structure was awarded a Grade Two heritage listing in January.
Deputy Duhamel said: "There are special designations in the island plan and the rules and regulations I have to follow.
"The suggestion of technical reasons whereby buildings have to be retained or not retained for airport safety reasons has to be taken into consideration."
Doug Bannister, Airport Director, said the building's location is now too close to the runway and a risk to flight safety.
He said: "The decision height is currently 200 feet, we currently lose about 200 hours per year at this level.
"The decision is height is where the pilot can see the runway. The restrictions could see this go up to 500 feet which could see more airspace subject to fog."
Fergus Woods, civil aviation director for the Channel Islands, said keeping the arrivals hall will cause more flight diversions and fewer aircraft landing in bad weather.
"I would try and keep restrictions to a minimum and don't know exactly what they would be at the moment," he said.
"They would involve the raising of the minimum descent height for planes landing in Jersey and probably an increase in the minimum visibility they can operate in."