Jersey parish opens for voting early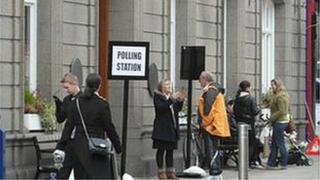 Pre-poll voting has started in Jersey ahead of the two St Helier by-elections on 5 March.
Organisers hope having a polling station open for a week before election day will help to increase turnout.
There are nine candidates standing for one of two seats made vacant by Trevor and Shona Pitman who lost their seats after being declared bankrupt.
At the 2011 election, the turnout for St Helier 1 was 36.1% and St Helier 2 was 37.25%.
Married deputies Mr and Mrs Pitman lost their seats after being declared bankrupt in the Royal Court on 3 January.
The successful candidates will sit in the States until the general election on 15 October.
A spokeswoman for the Judicial Greffe, which organises the elections, said they would be opening for pre-poll voting on the Saturday before the election.
They normally open for pre-poll voting the week before, but this is the first time they have opened on the Saturday.
Polls will open Monday to Friday 09:00 GMT to 17:00 GMT, Saturday from 09:00 GMT to 16:00 GMT and on Monday 3 March from 09:00 to 14:00 GMT.