Jersey's St Thomas' Church lightning strike costs £30K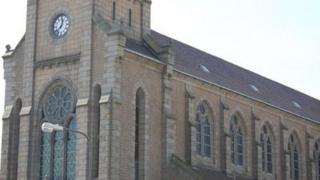 Repairs to a church in Jersey which was struck by lightning during recent storms will cost about £30,000.
A lightning conductor prevented any structural damage to St Thomas' Roman Catholic Church, but many electrical fittings were burnt out.
Central heating boilers are also currently not working as a result.
The leader of the island's Catholic congregations, Monsignor Nicholas France, said the repair costs would be covered by insurance.
Among the things broken are amplifiers for the church's audio system, some light fittings and the electronic mechanism for the church's boilers, which was blasted off the wall in the boiler house.
Insurers have already carried out an inspection of the building, Monsignor France said.