Jersey Plemont parish can launch housing appeal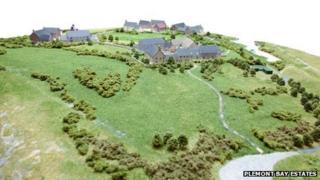 A Jersey parish has been told it can launch an appeal against plans to build homes at a beauty spot at Plemont.
Jersey's Royal Court has ruled people in St Ouen can challenge the planning minister's approval of a 28-home development on the headland.
The court ruled the parish had lodged its appeal within the permitted time limit.
However, it is expected planning minister deputy Robert Duhamel will lodge an appeal against the ruling.
In September, residents argued the reasons given for approving the homes on the headland were unjustified
The redevelopment of the former holiday camp at Plemont has divided public opinion since it was first mooted.
The plan, by owner Plemont Bay Estates, includes 80% of the site being returned to nature.