Hundreds attend former Lieutenant Governor's memorial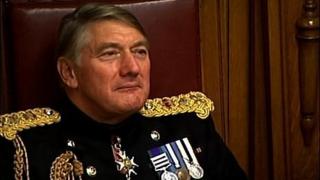 Hundreds of people have attended a memorial service for Sir Michael Wilkes, the former Lieutenant Governor.
Gen Wilkes held a number of senior roles in the British Army during his 35-year career, including Director of SAS and Adjutant General.
He was the Queen's representative in Jersey from 1995 to 2000 after his retirement from the Army.
In his eulogy, Martin Bralsford from Stanley Gibbons, said Gen Wilkes had enriched many lives.
The memorial service at St Thomas' church heard tributes to the former Lieutenant Governor who was described as "a valued and admired man".
Sir John McColl, the current Lieutenant Governor, said: "He was a larger than life character who was an island personality, when he was Lieutenant Governor and beyond. He will be much missed."
Gen Wilkes died from cancer in October aged 73.