Wall collapses and trees uprooted by winds in Jersey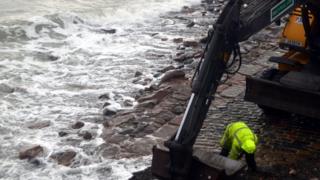 Severe gale-force winds have uprooted trees and caused some structural damage in Jersey.
A wall collapsed in Grand Vaux in St Saviour and 17 trees were brought down, closing some roads.
Flights between Jersey and Guernsey were cancelled on Friday after winds gusting up to 80mph (128km/h) were forecast by Jersey Met Office.
The States of Jersey has spent more than £200,000 repairing damage to sea defences caused by storms this year.