Channel Island ferry company considers flag change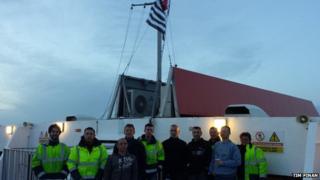 Ferry operator Condor will consider changing the flag its French ferry flies under to end a week-long strike.
French crew have been on board the Rapide since Thursday 6 February refusing to return to work until they get better pay and conditions.
The vessel is currently registered in the Bahamas but crew have raised the Breton flag and want it changed to the French flag.
Company director, Ken Soar, said it would not be an easy process.
The company is sending a team to Marseille to speak to the French regulator the Affaires Maritime on Friday.
Condor says in the meantime it will make sure passengers can get to France, by paying for them to go to England then get on a ferry from Portsmouth or Plymouth.
It is just over an hour on the ferry between St Helier and St Malo, or about 42 miles.
Condor Ferries' services to St Malo have been cancelled until next week because of the continuing industrial action by its French crew.
Pay dispute talks between Condor and the International Transport Workers' Federation have remained deadlocked, with no sign of a resolution.
Ferries between France and both Jersey and Guernsey have been affected.
Condor chief executive James Fulford has been negotiating with the unions since the strike began.
ITF representative Laure Talloneau said: "Staff would not compromise and not go back to work until they got better pay and working conditions."
Ms Talloneau claimed workers were protesting because they wanted the same rights as their counterparts on the mainland, such as social security benefits.
She said they would stay on strike until they had their contracts changed.