States should keep Royal Square ex-military police station, deputy says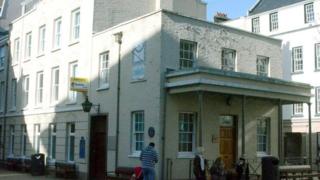 A former military police station in Royal Square which is due to be sold should stay in government hands, a Jersey politician has said.
Piquet House, which has been used by the States police for their town policing unit, is being sold due to the force's move to Hill Street.
Deputy John Young wants the government to keep it and convert it community use or offer a short term lease.
The environment scrutiny panel chairman has called for a debate on the sale.
He said he would be happy for it to be leased to a suitable commercial organisation if no community group came forward.
The deputy wants the States to make sure the building is conserved and that its future use is compatible with its location in the Royal Square.
The debate is expected to happen on 3 March.
The details of the sale to a private bidder will not be released until it goes through court.
A plaque on the listed British guard house, which was built to help protect against French invasion, states it was used by military police until 1924.
The building behind Piquet House, which houses the Home Affairs Department and the St Helier Registrars Office, is also being sold.