Call to delay Jersey finance development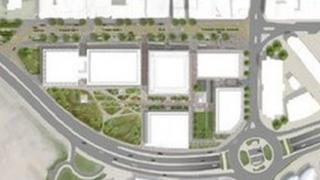 A senior politician has called for development on Jersey's finance centre to be halted.
Senator Alan Breckon said blueprints for the island's International Finance Centre, on the Esplanade, had changed since being given initial approval.
States-owned Jersey Development Company wants to build six office blocks with underground car parking.
Lee Henry, its managing director, said: "The master plan is still being adhered too, which was approved."
The two buildings on the Esplanade Quarter are to be finished by 2016.
Mr Henry added: "From our perspective States have approved the development and we are progressing in accordance with our mandate.
"It is frustrating that we now have this proposition before us looking to halt the development.
"It could jeopardise the whole scheme and significantly impact Jersey's long term economic future."
Senator Breckon said he wanted the States to be shown all the details before any more development goes ahead.