Jersey minister says 'no limit' to money needed for sea defences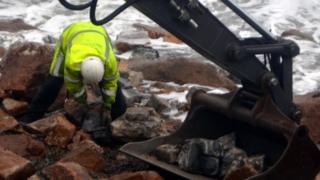 Securing Jersey's sea defence is a "priority" and any money needed will be made available, says the treasury minister.
Senator Philip Ozouf said about £1m per year was already being spent maintaining and improving defences.
About £200,000 has been spent repairing damage caused by recent extreme weather.
Senator Ozouf said more than £10m had been spent reinforcing Jersey's sea defences over the past 10 years.
The pledge was welcomed by Transport Minister, Deputy Kevin Lewis, who said it was not possible to put an exact figure on the cost of repairing existing defences.
"We already had plans in hand to put extra height on a few of the sea walls but we need to go down as well as up," he said.
"What we've seen with the storms we've had is the sea walls can be easily undermined.
"We are looking at the foundations of the sea walls. We are limited as to how high we can go but we will do all we can to protect Jersey and the infrastructure."