Jersey States spent £10m on sea defences over decade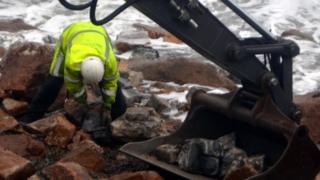 More than £10m has been spent reinforcing Jersey's sea defences over the past 10 years according to the treasury minister.
Senator Philip Ozouf said the money spent had proved worthwhile.
Flooding, high tides and gale force winds in have weakened the island's seawalls over the past week.
Transport minister, Deputy Kevin Lewis, said repairing the sea defences would take about three months and cost £200,000.
'Right decisions'
The slipway at St Aubin has partly collapsed, as has La Grande Maison slipway near St Catherine's lifeboat station.
Senator Ozouf said: "It is not an exaggeration to say that hundreds of homes would have been flooded in low lying areas, the right decisions have been made, especially during difficult situations."
Deputy Steve Luce from the environment scrutiny panel said it could cost a lot more to repair the defences.
He said the damage may be deeper than expected as foundations could be damaged and that it may be difficult for workers to establish how serious the damage was.
He said: "They have already got to work on repairing the walls and slipways that need repairing and I take my hat off [to them] for moving so quickly.
"But £2000,000 is an estimate and I think a conservative estimate as we can only do proper survey work when the tides fall away."