Jersey's extreme weather 'costly' for fishermen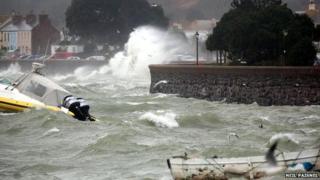 Jersey's fishing industry is losing hundreds of thousands of pounds by not being able to go to sea, says the president of the fishing association.
Don Thompson said island fisherman had barely been able to put to sea since mid December due to stormy seas and high winds.
He said December and January are when shellfish sales are at their highest.
Mr Thompson said the money fisherman make at this time helps them survive during quieter times during the year.
With boats confined to harbour, the amount of fish coming into the island has dropped.
Victor Gomes, head chef at fish restaurant Atlantique, said they were having to bring fish in from the UK.
He said: "It is very very unusual for these extreme conditions. We are fortunate that we usually have local produce. However, at the moment we are having to make do with whatever we can."
Jersey's fishing industry is worth about £7m or £8m per year, with the busiest time from December to Easter.
Mr Thompson said: "There are the fisherman who make first hand sales but then there are the merchants, fishmongers and restaurateurs who rely on the product. It goes on to have a second and third sale.
"If there is no product then all of those sales are lost and so you are probably looking at hundreds of thousands lost.
"We are now looking at several weeks stuck ashore, rather than a short spell which is something we learn to live with. It is becoming extreme and costly."