Channel Islands ferries cancelled by severe weather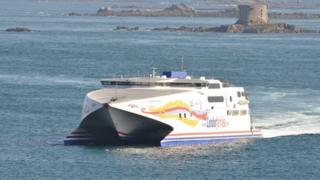 Freight and passengers ferries to the Channel Islands have been cancelled after a severe weather warning.
Condor ferries CEO James Fulford said it had not been safe to make the sailings in the forecast conditions.
Four ferries sailing between Jersey, Guernsey, Portsmouth and Southampton were cancelled.
The company said it hoped its freight service, on the ship the Goodwill, would operate as normal on Wednesday evening.
Mr Folford said it was "very rare" that neither Clipper nor Goodwill were able to sail but the extreme weather conditions forced the cancellations.
Waves of more than 8m (26ft) and winds of 50 knots had been forecast the English Channel on Wednesday, he said.
Island shop owners are hoping freight services will run to prevent supplies of fresh produce from outside the island running out.
Marks and Spencer said it depended on produce from the UK but said it was had enough for Wednesday and Thursday.
The Channel Island Cooperative Society said the night boat carried most of the produce so if that got in on Thursday there would no shortage in its stock.