Jersey people warned to 'stay indoors' as severe gales forecast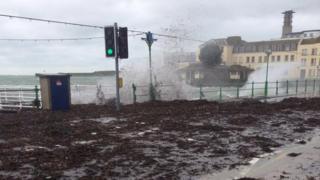 People in Jersey are being warned to "stay indoors" as storm-force winds and high tides are predicted to hit the island.
John Searson, from the Jersey Met Office, said winds with gusts of 70mph were likely later.
He said the size of the tides would not normally be big enough to cause problems but the strong gales would make conditions "very dangerous".
Mr Searson said people should not leave their homes unless it was essential.
He said: "Normally the tide wouldn't be big enough to produce a significant issue but the strength and direction of the wind causes us a problem.
"The lifting potential of waves and stone is going to be higher, the coast is going to be a dangerous place to be tonight."
St Brelade Honorary Police Officer, Ian Le Sueur, said St Aubin was likely to be badly hit, with flood waters coming into the village.
He said: "Stay indoors, don't come out to look at the waves as it is going to be a nasty one. Stay at home, in the warm and let us do our jobs and make it easy for us."
Harbour authorities in St Helier have raised the storm gate, a barrier which can be lowered and raised which stops the high tides rushing in and out.
Ferries have also been cancelled on Wednesday, with only one vessel expected to leave the island.
Condor Ferries CEO, James Folford, said he expected sailings to return to normal from Thursday.
The head of the honorary police in St Aubin, Centennier Michel Bougeard, said the village had endured the worst flooding he had seen in more than 30 years.
He said further flooding was expected with heavy south-easterly winds blowing waves into the village.
States and parish authorities are still working to clean up from the weekend's extreme weather.
More than 500 tonnes of rock fell from a cliff face at Plemont, and high tides and strong winds destroyed shacks and businesses along the south coast, hitting St Ouen, St Clement, Grouville and St Helier.