Wave washes Jersey Honorary Police Officer off feet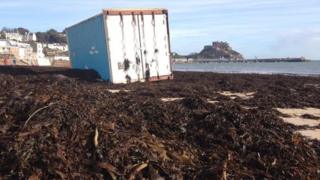 A police officer has been injured after being swept off her feet by a wave, as strong winds and high tides hit Jersey.
The accident happened as the Honorary Police Officer was directing traffic in St Clement on Saturday evening.
She suffered bruising and damaged an elbow after being swept about 25ft (7m) across the the road at Le Mare Slip, but carried on with her duties.
Footage of the incident on the social media YouTube website has been watched by tens of thousands of people.
Sections of coastal road have been ripped up by waves and stones and there has been some coastal flooding.
In Grouville, a shipping container used as a kitchen for a beach-side Thai food shack was wrenched free from its heavy-duty chain moorings and pulled along the beach.
The beach shack and a nearby hut were destroyed by the waves.