Storm-hit tree pulls down Jersey power lines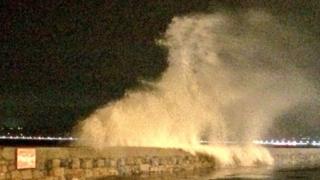 Engineers are trying to restore electricity to a number of homes in Jersey after a falling tree pulled down power lines.
The tree at La Commune in St Saviour was brought down as strong winds and high tides hit the island.
Large waves have damaged part of the sea wall at St Clement and there have been reports of some coastal flooding.
The stormy conditions have also led to number of road closures and cancelled bus services.
A "red" tidal and flood warning has been issued by Jersey Met Office for Saturday night and Sunday morning.