Jersey victim of former magistrate has compensation cut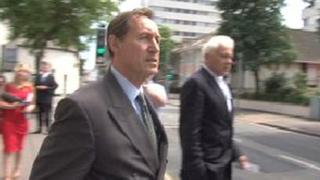 A former Jersey magistrate has lost his appeal to overturn an order for him to pay compensation to an elderly woman he defrauded.
But Ian Christmas will have to pay the victim less than a third of the £100,000 originally ordered.
The elderly woman will now get £30,000 at a rate of £500 per month.
The Appeal Court considered the living expenses of Mr Christmas, who said he would go bankrupt if he had to pay the full amount.
Mr Christmas's lawyer argued any compensation order would be oppressive and a burden for the former magistrate as it could force him into bankruptcy.
Advocate Ian Jones also claimed that if it was ordered - and Mr Christmas missed even one monthly payment - he would face the penalty of going back to jail.
Property investment
The prosecution questioned details of Mr Christmas's living expenses and said he also had a pension and could afford to pay compensation.
The court found in favour of the victim and Mr Christmas was ordered to pay the reduced amount over five years. The first payment is due before the end of February.
Mr Christmas was jailed in 2012 and served 10 months of his 15-month sentence for defrauding the woman in a property investment scheme.