Jersey D-Day veteran Sid Peck dies after illness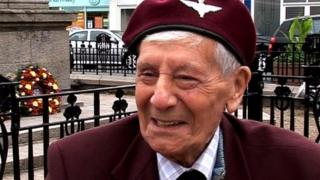 A Jersey World War Two veteran, who was one of the first allied soldiers to land in France in the assault on Pegasus Bridge, has died.
Sid Peck, who was a parachutist, died aged 91, after a long illness.
Mr Peck was badly wounded in a mortar attack during the war and had shrapnel in his legs for the rest of his life.
His friend and fellow Normandy veteran Clive Kemp said it was a very sad loss. The attack on Pegasus Bridge was aimed to open a passage for allied forces.
Men in gliders and parachutes landed just after midnight to seize the bridges across the Orne River and nearby canal.
Mr Peck was one of the first to land, in a stick of men which included the future film star Richard Todd.
After fierce fighting, the Paras captured and held the bridge, opening the way for an allied breakout to the east, and preventing a German counter attack.