Jersey Met office issue coastal flood warning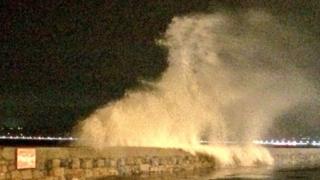 Heavy winds and high tides are likely to cause flooding along Jersey's south coast over the weekend, the met office have warned.
An "orange" warning, issued by the Jersey Met Office for Friday night, warns of spillage over the sea walls around high tide at 19:00 GMT.
Forecasters have also issued a "red" tidal and flood warning for Saturday night and Sunday morning.
They say conditions mean coastal roads may have to close.
Sharon Merren from Jersey's met office said the effect of wind, tide and rain will have an inevitable impact.
She said: "There will be a lot of water coming over the walls along the south coast along the very high tide. Bearing in mind there will be rain all afternoon, the drains will have a lot to cope with."