Jersey voting system change idea criticised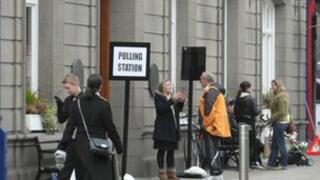 Changing Jersey's voting system could lead to a delay in finding out results, according to the committee responsible for elections.
Deputy Montfort Tadier wants to introduce a mixture of single transferable and alternative vote systems.
The Constables' Committee says the chance of multiple counts could cause delays in declaring results.
Politicians will debate Deputy Tadier's proposals on Tuesday.
Jersey currently uses the first-past-the-post system, for all elections.
The single-transferable-vote means a vote could be transferred to a second preference if the first does not succeed.
Mr Tadier wants to see this system used for all multi-member constituencies.
He also wants to see the alternative vote system being used for single member constituencies. This is where candidates are ranked in order of preference.
In their response to his proposition, the Constables' Committee said volunteers already work a long day with polls open from 08:00 GMT until 20:00 GMT.
They said with the chance of multiple counts, the actual counting could be put off until the next day, delaying the result.