Jersey politician in call for register of CCTV cameras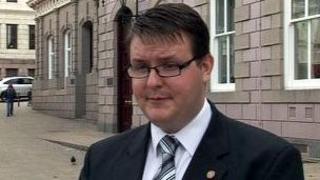 There should be a public register of CCTV cameras, according to the politician leading a review into their use in Jersey.
Deputy Jeremy Macon said a register would make groups using them more accountable.
His panel made the recommendation, along with advising more consultation before the public network is extended or upgraded.
Deputy Macon said the public should be made aware of any changes.
He said: "Technology is rapidly developing, and whilst at the moment there are no plans to increase the CCTV network to include facial recognition, the technology will soon be available.
"That is why we have recommended that any advancement in the CCTV, especially in the town centre, should go to the States for approval."
States of Jersey Police say there are currently no plans to introduce facial recognition technology.
Deputy Macon said having a register would help people identify when they had been filmed.
"In order to protect the public and ensure they have their rights we are recommending that there should be a public register of CCTV in Jersey for the commercial and States sector.
"That way people will understand and know where the technology is and if they have a concern will be able to raise it with the relevant authorities," he said.
The report also recommended that planning approval should be required for anyone wanting to install CCTV cameras in their home.