First seizure of 6-MAM drugs concerns trafficking team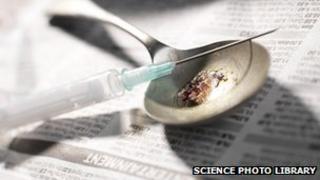 The first seizure of a heroin-type narcotic in Guernsey has spurred trafficking investigators' determination to clamp down on the smuggling of Class A drugs.
Six-monoacetylmorphine, or 6-MAM, was seized from Ciaran Winterflood, 22, in September during a joint operation by Border Agency and Guernsey Police.
He was jailed on Monday for nine years for possession with intent to supply.
The Border Agency said 6-MAM was "equally as dangerous" as heroin.
It is an organic compound of morphine and affects users in the same way as heroin.
"People buying the drug almost certainly wouldn't know it wasn't heroin, but it is equally as dangerous and is a Class A drug," an agency spokesperson told BBC News.
They said Class A drug use in Guernsey was a concern, even if it is "confined to a small community".
"This was our first seizure of this particular drug," the spokesperson said.
"Class A drugs are the ones that cause the most damage to people and the community and our drugs trafficking team will continue to focus on clamping down hard on them."
Winterflood, who comes from Guernsey, also pleaded guilty to possessing cannabis resin and the Class B drug amphetamine.
The Royal Court was told the total quantity of controlled drugs seized in the joint operation would have had a potential street sale value of between £75,000 and £120,000.