Jersey Opera House gets grant to repair grand piano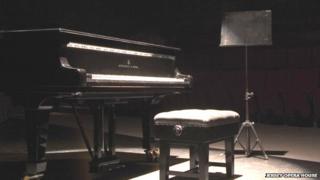 The grand piano at Jersey Opera House will be restored to its former glory, thanks to a donation.
The theatre bought the Steinway piano second hand in 2000 with money donated by islanders.
While playable, it needed work to restore it back to its original state.
The De Lancey and De La Hanty Foundation gave £10,175 for the restoration of the Steinway, which is in constant use by local and touring groups.
Abi Nance, from Jersey Opera House, said work would start on the restoration straight away.
"We have put appeals to the public previously but have not been successful in raising the money," she said.
"We were then put forward to the foundation and were deemed to be a deserving cause and they have kindly given us the money to carry out the refurbishment.
'Piano personality'
The handcrafted Steinway pianos take a year to make and a new one can cost about £120,000.
Dominic Ferris, who works with Steinway, said it was a fantastic piano to play.
"Each one has a personality, we treat them like living things and any piano players will know when you play one of that calibre, it is like driving a top of the range car," he said.
"A car that is not maintained will not run as well as it would when it is new, if they continue being used in a place like an opera house it is important they are maintained."
Ms Nance said the strings, tuning pins and some of the keyframe felts would be replaced as well as other general repairs.